With the family in Bellevue WA, we've decided to make a trip to Olympic National Park. It was already 9:00 am, but we weren't prepared. We stopped at the Southgate Market, and picked up a few chips and kimbob for our lunch. After consulting with a local person, we decided to make this a 2-day trip. We went back to the Homestead Hotel, and packed necessary amenities for overnight stay and drove west to the park. We solely relied on Garmin 2720 for directions, and it did help us quiet well. The Garmin was smart enough to take us to Edmonds Ferry station, and not before long we were on the Edmonds/Kingston Ferry. It was first time Ferry ride for Cindy, Ryan and Andrew; and Andrew's imagination was slightly off. Andrew didn't think the car was riding with us on the Ferry, and surprised when we got back to the car after we arrived at Kington.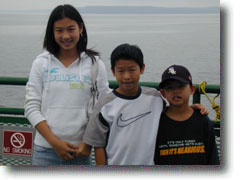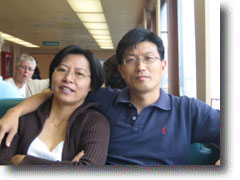 We went straight to Sol Duk/Hot Spring Resort. We picked up a map, and decided to make our very first hike to be the Mink Lake. The distance to Mink Lake was 2.5 miles up and 2.5 miles down. I have guessed that it's going to take us 2 to 2.5 hours go make a round trip. It was actually farther than I thought, and took us about 4 hours. Karen said "Oh My God" about a dozen times, and the rest of us did as many. It was a tough hike for everyone as none of us were prepared to climb a mountain (up and down) for 4 hours.



I've made an attempt to teach Ryan and Cindy how fast sound travels, and that triggered us to play the "Echo" game. Ryan would say "Yea Yo", and I would follw, then Cindy, Andrew and finally Karen. During our way up, we didn't see a single person walking on the trail make me think that this is not a popular course. When we arrived at the Mink Lake, we saw snow on the ground although we weren't feeling cold at all. This place wasn't meant for site seeing people like us, but for campers.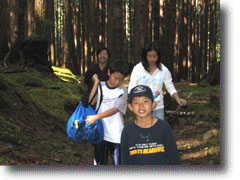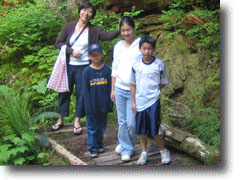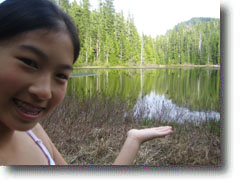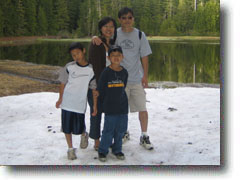 On our way down, we saw sanghwang mushrooms. Sanghwang mushrooms are known for help building immuine system, and are popular among cancer patients and elderlys. I've collected a bag full of SangHwang mushroom for Karen and my parents. When we arrived at the Sol Duk resort, it was 7:30pm. We quickly had our dinner at Aramark restaurant located inside the resort, and head out to find a place to stay. We've used the Garmin navigator to find hotels near the area, but after making a dozen or so calls we found a place in Sequim where there was a vacancy. We drove 35 miles east and stayed at West Inn in Sequim. Everyone was tired after 5 mile walk, so I was pressured to find the courses where we don't have to walk as much.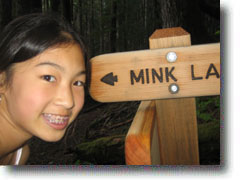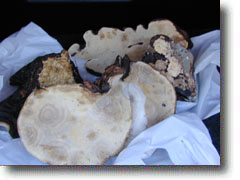 More photos available at Seong Gallery.